Monkeypox in Jackson County: Symptoms, Testing, Vaccines, and More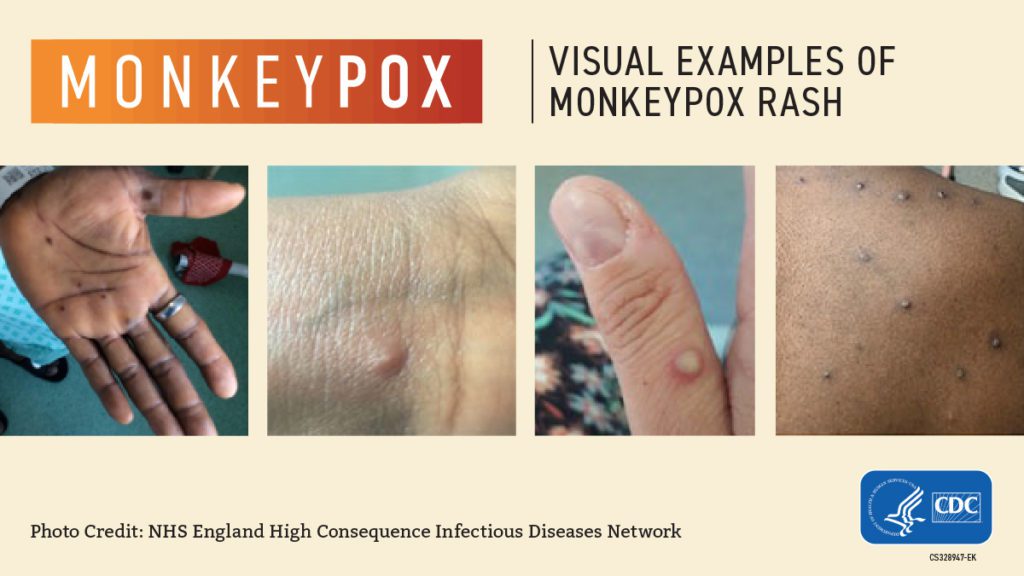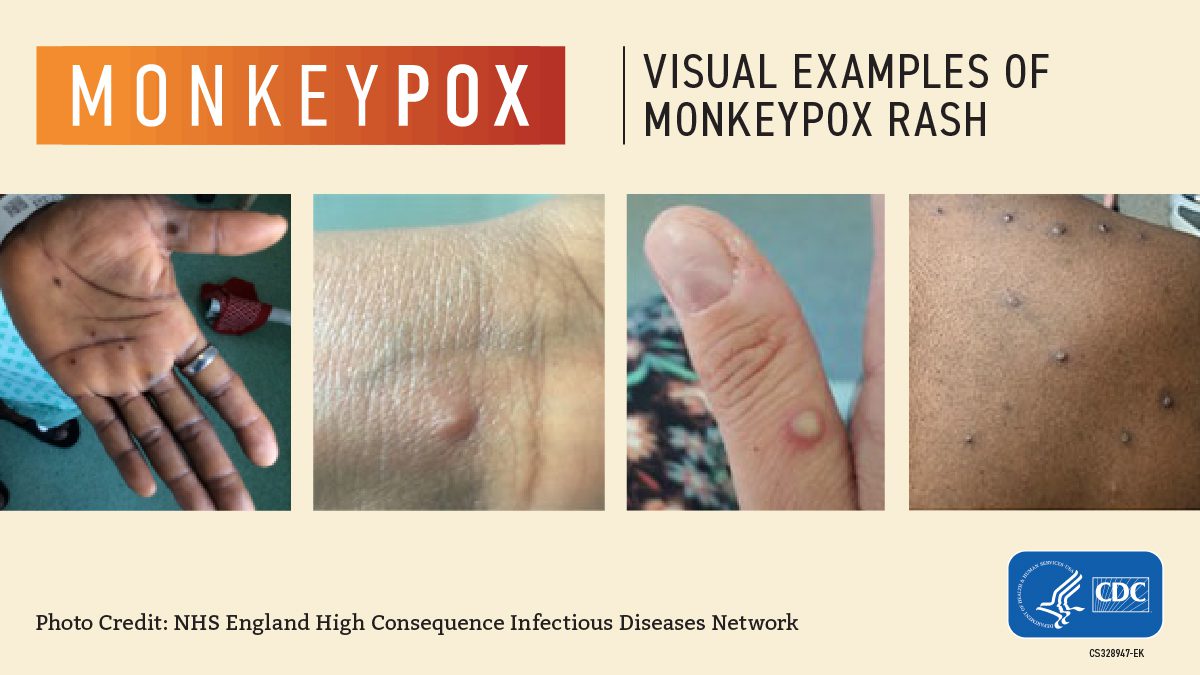 Updated September 2, 2022 — Monkeypox is a rapidly evolving issue. This page will continue to be updated as we learn more (and receive more questions from readers like you!).
Have questions about monkeypox? Wondering what the vaccine rollout looks like in Jackson County? You're not alone!
On this page you'll find answers to some of the most common questions we receive. If you're at high risk and interested in getting vaccinated, click here to sign up!
What is monkeypox?
Monkeypox is a rare disease caused by the monkeypox virus, which began spreading in the US earlier this year. Its symptoms include a painful rash and flu-like symptoms. You can catch monkeypox through close physical contact with an infected person.
While monkeypox is part of the same family of viruses as smallpox, the type involved in this outbreak has milder symptoms and is rarely fatal. Symptoms usually resolve in 2 to 4 weeks. 
However, some groups might be more likely to get seriously sick. This includes young children as well as those who are immunocompromised, pregnant/breastfeeding, or affected by eczema.
What are the symptoms of monkeypox?
People with monkeypox typically develop a characteristic rash, often located on/around their genitals or anus. It could also be found on other parts of the body, including the hands, feet, chest, or mouth.
The rash can at first look like blisters or pimples and can be painful. Some people have developed multiple lesions across the body, while others might only have a single spot.
Some infected people only have a rash, while others develop flu-like symptoms before or after the rash forms. This can include:
Fever

Swollen lymph nodes

Headache

Exhaustion

Muscle aches and backache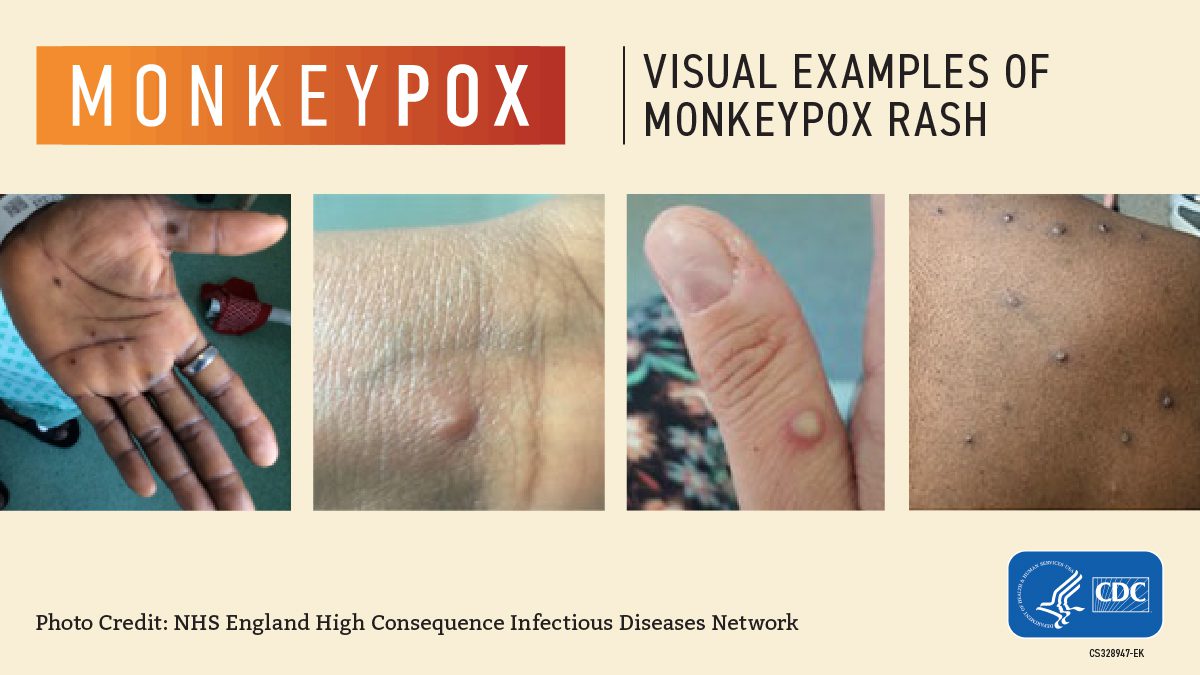 How do you get monkeypox?
Monkeypox usually spreads through close physical contact with an infected person. This includes:
Direct contact with an infected person's rash, scabs, or body fluids.

This can include cuddling, wrestling, or massaging as well as oral, anal, or vaginal sexual contact.

Respiratory droplets from

prolonged face-to-face contact,

such as kissing or hugging.
Monkeypox can also be spread by items used by someone with monkeypox, including towels, bed linens, and clothing. During pregnancy, it could also be passed to the fetus via the placenta.

Once an infected person develops symptoms, they will remain contagious until their symptoms have fully cleared up (ex: lesions have fully healed and have been replaced by new skin).
What precautions can I take?
There are some precautions that everyone can take: 
Avoid skin-to-skin contact with people who have a rash or scabs that resemble monkeypox.

Don't handle an infected person's towels, bedding, eating utensils, clothing, or other personal items.

Wash your hands often.

If you're attending an event, consider how much skin-to-skin contact is likely to occur.

A densely packed rave where attendees are wearing minimal clothing is likely a higher-risk situation than a concert where attendees are fully clothed and spaced out. 

Keep an eye out for new rashes or blister-like bumps on your body.

If you suspect you have monkeypox, avoid close contact with others and get checked out by a medical provider.

(See "What should I do if I think I have monkeypox?" for more information.) 
In this outbreak, sex (or intimate contact) has been a common method of transmission. If you have multiple sexual partners, consider taking additional precautions. This includes:
Asking your sexual partner(s) about recent illness/rashes

Limiting your number of sexual partners

Using protection during sex (condoms, gloves), which may help limit exposure

Reducing opportunities for skin-to-skin contact with others (clothes, latex, leather)

Avoiding situations (sex parties, clubs) involving anonymous sexual contact 

See the link above for more safer-sex tips regarding monkeypox
This is especially important for men who have sex with men, who have been disproportionately impacted in recent outbreaks. However, it's also important to note that monkeypox transmission is not inherently tied to sex or to any one community — more on that below.
Is monkeypox a sexually-transmitted infection?
Not quite! While monkeypox can be spread during sex, it is not currently considered an STD/STI. It can also be spread through other forms of close physical contact with monkeypox lesions, such as cuddling or caring for someone who's infected. 
Think of it this way: if you have sex with someone who has a cold, there's a very good chance you will also get sick. But you wouldn't call a cold a sexually transmitted disease! 
Wondering why the spread of monkeypox has been associated so closely with sex? One possible explanation is where these lesions often appear on the human body (genitals, anus, mouth). You are unlikely to touch someone in these places unless they are a sexual partner or a sick person in your care.
What should I do if I think I have monkeypox?
If you have a new rash or other symptoms, avoid close physical contact with others until you have seen a healthcare provider. This includes abstaining from sex, kissing, and other forms of physical intimacy.
For monkeypox testing, make an appointment with your primary care provider. Your provider will evaluate your symptoms and work with the health department to determine whether you meet the requirements for free testing. If eligible, your provider will collect a sample to be sent off for testing at the State Public Health Lab, free of charge.
If you're not eligible for testing through the State Public Health Lab, you may opt to send your sample to a commercial lab. Please note that there may be costs associated through commercial labs. 
If you do not have a primary care provider, the Kansas City Health Department is able to provide free monkeypox testing to those who meet certain criteria, which you can find here. Additionally, you can visit a low-cost provider through Swope Health or KC Care Health Center.
Before seeing any healthcare provider, call ahead and let them know that you believe you may have monkeypox. Wear a mask during your visit.
How will I know if I've been exposed to monkeypox?
If you are identified as a close contact of someone with monkeypox, you'll be contacted by the health department and offered the monkeypox vaccine (if eligible). Getting vaccinated shortly after exposure can prevent you from developing monkeypox.
If you were exposed to monkeypox, you'll need to closely monitor yourself for symptoms for the next 21 days (three weeks). You're not contagious until/unless symptoms develop. Talk to your primary care provider for additional guidance.
If you were exposed to monkeypox and have symptoms, notify your recent intimate partners/close contacts and follow the CDC's isolation guidance so that you don't risk spreading it to others.
If you develop monkeypox symptoms, you should avoid close contact with others and see a healthcare provider for testing and medical guidance. See the question above ("What should I do if I think I have monkeypox?") for more information.

How worried should I be about monkeypox?
The risk to the general public is low at this time, although your individual risk might vary based on your age, health, and other factors. Plus, public health authorities around the world are continuing to learn more about these monkeypox outbreaks. We recommend staying informed and aware, but not panicking. 
Here are a few points to consider:
Monkeypox does not spread as easily as COVID-19.

It most commonly spreads through direct physical contact with monkeypox lesions and through prolonged face-to-face contact. You could catch COVID-19 from a stranger while grocery store shopping or dining indoors, but you almost certainly would not catch monkeypox in the same circumstances.

The strain of monkeypox involved in these outbreaks is very rarely fatal.

Over 99% of people who get it survive.

However, monkeypox still represents a legitimate public health concern for our community, especially for those at high risk of severe disease.

The higher the case rate, the greater the chance for it to spread throughout the community, including to people more likely to get very sick.

Plus, fatality isn't the only measure of a disease's impact:

monkeypox can be very painful, cause permanent scarring, and last for several weeks.

Right now, there have been very few cases identified in our area.

As of 8/11/22, Kansas City has had 4 confirmed cases, while Eastern Jackson County has not had any cases. 

To keep cases low, it's important for everyone to know the risks, symptoms, and precautions.

Since cases have been steadily increasing across the US, we shouldn't assume that cases in our area will stay low forever, or that cases will stay concentrated among any one population.

If you are a man who has sex with other men, you may be at higher risk.

As of 8/11/22, this population has been disproportionately impacted.

At the same time, it's also important to recognize that

sex is not required for monkeypox transmission

and that

anyone can get monkeypox, regardless of sexual orientation.

Anyone who has close physical contact with an infected person (including caretaking, cuddling, or massages) can catch monkeypox, including children.

Don't give yourself a false sense of immunity!
Finally, remember that our situation is continuing to evolve.

On a national level, there's a lot that's changing as we learn more about these outbreaks and as the CDC's monkeypox response and vaccine rollout continues. As public health officials across the world learn more, recommendations may change. 
While there might not be a one-size-fits-all answer, the good news is that we know how to prevent monkeypox's spread and what symptoms to watch for. You can learn more about monkeypox here.
When can I get the monkeypox vaccine?
The Kansas City Health Department is now offering vaccines to high-risk individuals who meet certain criteria. While the supply is still very limited, those eligible will be contacted as vaccines become available. To sign up, fill out their confidential online survey.
If you are a close contact of someone with monkeypox, you may also be offered vaccination through the health department.
If you do not fall into one of the above groups, you are not yet eligible to get a vaccine. At this point in time, the monkeypox vaccine supply is very limited. Because of that, it's being reserved for those who are close contacts of someone infected with monkeypox or who are otherwise at high risk.
However, we anticipate that as time goes on and we have more vaccines to distribute, it will become available to more groups of people. A good point of comparison is the COVID-19 vaccine rollout, where frontline workers and those at very high risk became eligible before the general public.
Since this is all being handled on a level far above our county health department, we don't know exactly what the timeline for that will be yet.
I'm straight, so does that mean I'm "safe" and don't have to worry about this?
This is actually a very common misconception! Short answer: not necessarily. The monkeypox virus has the potential to infect anyone.
First — you don't have to have sex to get monkeypox. (See the questions above) Right now, many of the outbreaks have involved sex, but that won't necessarily be true forever. In monkeypox's countries of origin, it tends to be pretty broadly distributed across the population and isn't exclusively tied to any one group or to sexual activity.
Second, things that happen in one part of our community have the power to impact all of us. Diseases do not care about your sexual orientation, and those monkeypox lesions that it's so important to avoid touching do not exclusively appear on private parts (ex: hands, feet).
Right now, cases are concentrated among men who have sex with men, so most straight people are at low risk at this moment in time. But again: it may not stay that way forever. It's not uncommon for infectious diseases to initially impact one group of people, then spread throughout the general population.
If you assume that you can't possibly get monkeypox, you might miss seeing symptoms in yourself or someone else.
Whatever your orientation, you can still benefit from staying informed about monkeypox and knowing what to watch out for!
How many monkeypox cases are there in Missouri right now?
As of 9/2/22, there are 53 cases. You can see an up-to-date count on confirmed monkeypox cases on the CDC website.